At the museum of decorative arts is an exhibition dedicated to the fashion designer Dior. So off we went. Yes, monseur le Dishwasher as well. All I can say is amazing. I have never before in my life saw so many enchanted, enthusiastic, smiling women together! Ever!
It was an absolutely spectacular exhibition. Even if one is not into fashion it is easy to understand that enthusiasm and excellent creativeness goes hand in hand with greatness. 
The rest of the museum is dedicated to decorating furiture and everyday utesils through the ages. Once again true craftsmanship and good design equals timeless beauty.
But I was not just looking at dresses all day. I had an incredibly busy morning. I finished 2 paintings, a nude and a still life with an apple.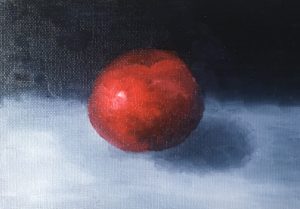 Ledevia at the I art gallery promised me an exhibition on the twelfth of October for the Paris works. I hope there will be enough art for an exhibition!  But I am working on it
I hope to see you there!