If man's soul is capable of so much beauty, why do we allow wars? What causes us to want to take a life? I am happiest when I am at peace with all around me.
I do not understand vandalism. To be able to create is joy. What pleasure is there in another's pain and loss.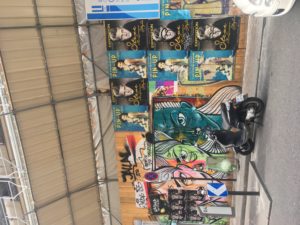 And not all need to be high art. There can be so much joy in graffiti. Or in the playful metro station entrance.
Mabe these are the thoughts of a wandering idiot…
I intended visiting the Modern Art museum but found a Japanese woodblock print exhibition instead. The have started to fascinate me since I learnt that these works had a great influence on the impressionists.
The work is beautiful and the printing perfect like one can expect from Japanese masters. The prints are colourful and full of detail but on closer inspection every line in the artwork has meaning. A single line speaks of tiredness in a drawing of a figure. Nothing is expensive. Just perfect!
The rest of the museum is dedicated to Asian art. Beautiful peaceful quiet buddist sculptures to energetic Indian work.
Unfortunately I was pressed for time as we had a welcome reception at the Cité des Arts….. and I do not take well to pressure in a museum. Fortunately I can always go again.
I spend the afternoon with a paintbrush. Love the miniatures at the moment.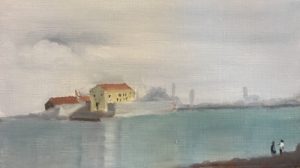 Evening cello recital was Bach suites no 1, 3 and 6. This, after the Goldberg variations must be my favourite music. Listening to it feels like listening to the voice.