Of all the museums I visited, the Brancusi museum will always be one of my favorites. Situated in the heart of Paris on the square in front of the Pompidou Centre. This small museum is free, and although small, give a wonderful insight into the work of the sculptor. The workshop of the artist with its contents was left to the people of France by the artist. The whole artelier was reconstructed as it was when the artist died. One can still see the implements he worked with as well as a sleeping area. One almost expect him to walk in and start working.
Constantin Brâncuși (Romanian: [konstanˈtin brɨŋˈkuʃʲ] ( listen); (February 19, 1876 – March 16, 1957) was a Romanian sculptor, painter and photographer who made his career in France. He abstracted form to its most basic parts. Absolute minimal detail give us clues to what we are looking at.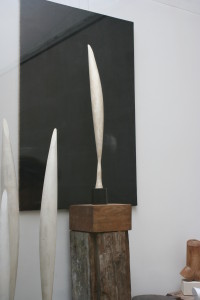 Considered a pioneer of modernism, one of the most influential sculptors of the 20th-century, Brâncuși is called the patriarch of modern sculpture. As a child he displayed an aptitude for carving wooden farm tools. Formal studies took him first to Bucharest, then to Munich, then to the École des Beaux-Arts in Paris from 1905 to 1907. His art emphasizes clean geometrical lines. Like other artist of his time, Gaugin and Picasso, Brancusi got his inspiration from other cultures like African art. He merges these influences with his Romenian folk art and Byzantine art . He usually dressed like Romanian peasants did. His studio was reminiscent of the houses of the peasants from his native region: there was a big slab of rock as a table and a primitive fireplace, similar to those found in traditional houses in his native Oltenia, while the rest of the furniture was made by him out of wood.
Like a innovative artist Brancuși had lots of interests, from science to music. He was a good violinist and he would sing old Romanian folk songs, often expressing by them his feelings of homesickness.
The sculptures is so simplistic that it will complement any modern interior. Contemporary artist will be inspired by a visit to this museum.