On the end of the island behind the Notre Dame cathedral in the small garden is a memorial to the 200 000 people, mostly Jews, that was deported by Nazi's to concentration camps in the second world war. Most of these people never returned.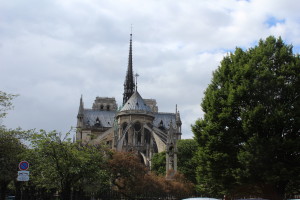 From the walkway behind the cathedral the memorial is not visible. You need to descend the steep concrete steps to enter the memorial. A stark triangular space confront you with a view of the river trough a barbed wire sculpture.
Just as you think that this is the whole memorial, you turn around to see an entrance between two big blocks of concrete. One enters a dimly lit space.
A corridor leads past the grave of the unknown deportee. Along the walls is row upon row of lights. Each light represents a soul that was deported from here.
This memorial is a reality check. How is it possible for things like this to happen.
More important still, with all the war memorials world wide, why do humanity still allow wars to take place. Will we ever learn?