After seeing the chateau of Fontainebleau yesterday I can't help but think about modern art. The art in an castle like that is overwhelming. How can a poor contemporary artist compete with the art displayed there? Paintings larger than life, floor to ceiling with spectacular gilded frames. Can one ever improve on that? Above all there is an setting that cannot be improved upon.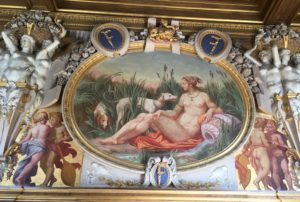 No wonder modern artists do all kinds of tricks to try and get some attention.
I waited two months for the Maillol museum to open. That happened yesterday. Today I was there! The visiting exhibition was the Pop art from the Whitney modern art museum in America. Interristing.
The Maillol sculptures are great. Every visit to a museum I visited before is better on second seeing. I enjoyed the sketches and paintings a lot as well today.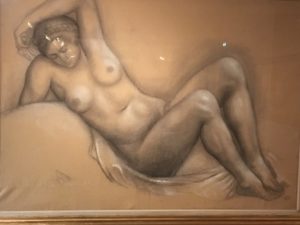 But the sculptures really speak to me!
Afterwards I walked to the Tulleries gardens where I saw a lot of Maillols sculptures before. I sat there in the sun for a long time, drawing a lot of them.
The roads home were full of dancing and singing teenagers taking part in Techno Rock festival. Mind numbing music!
Tonight we ended off with the usual organ recital of Saturday evenings. Afterwards we were entertained by street dancers.
Reflections of lights on the Seine is irresistible to me. I must take yet another photograph.