In the night I thought about how much I loved going to the movies as a student. All the Morricone music I know and live so well. Maybe in the next few years, if I am not on call 24/7 it will be great to go to the movies again regularly. I stopped going because it is frustrating to be bothered by the phone two or three times during a film, not to mention all the glances of the other irritated movie patrons.
Early of this morning to we are off to Fontainebleau. Our friend Jan joined in. He has been there before so day it should be easier to get there. Or so I thought …
Our first real train trip this holiday. We have not been out of town in the last two months. We had a lot of plans to visit friends in Netherlands, Friesland and Germany, but our days were really full and we didn't feel like missing anything that Paris had to offer. Frederika dit not want to do the tourist thing but I wanted it all. What good is an art residency if I can't see all the art? And the music, and the architecture and experience the people who makes the city what it is. I do not think I did too badly.
The train trip is only forty minutes. I love trains. It could last all day and I would still be happy.Then we went by bus to the little town.
The castle is beautiful. Even though it is spread over ackers, incomparison with Versailles this is a more person friendly castle. Not as big and not nearly as imposing. Being built over many centuries be different kings it has an eclectic look. Bits from every era.
The interior is very lavish of course, but the rooms are smaller and on a more human scale. Every little detail has a personal touch. All made by craftsman. Beautiful!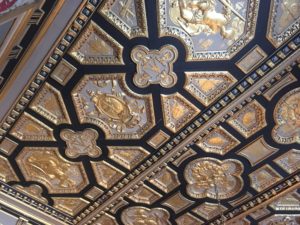 The gardens and parks are big, beautiful and well kept. It would have been wonderful to spend more time here as we had an absolutely perfect sunny day. Sittig outside to draw would be perfect. Well, I did do a little bit of drawing in any case, but..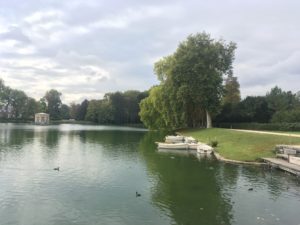 Madame has chef school tonight so I went of to the local bagel shop. There I sat outside seeing the world go by. It was a perfect evening.
My advert is up for my exhibition on Monday. No turning back now.
Three studio exhibitions tonight. One of them a video show of a few artists. All weird and wonderful.