This morning started with me unpacking the pastels that Richard gave me when I left South Africa. It is two beautiful sets of matched pastels but so perfect I didn't want to start using it.
Sometimes I laugh at myself. I always look at books and pens and sets of pencils, but when I have it, I do not want to use it because it is so perfect and I don't want to spoil it.
I made five sketches along the same kind of theme and I was amazed at how it became easier as I progressed. Maybe I should consecrate on one theme or medium.
In the afternoon we went for a stroll and some shopping. Today we really appreciated the sun and warmer weather.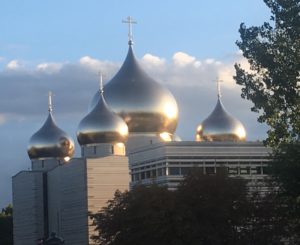 Evening concert as at the Russian Orthodox cultural centre. We heard chants and had an illustrated lecture on icons. If I had any doubt, I know now that my French is pathetic. But we saw a lot of beautiful icons and te music is truly spiritual.
I am very inspired to create some angels tomorrow.