Frederika and me set of to the Fragonard Museum this morning. It is a museum dedicated to perfume, especially those by Fragonard. We had such an enjoyable time. Having a good ( and pretty) guide is always worth while.
The history of perfume is as old as mankind.  I loved all the stories, like how royalty only bathed once or twice a year! (I am so glad for the times I live in.)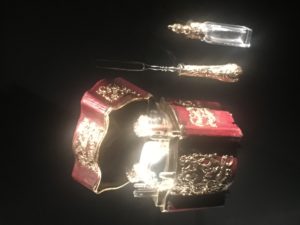 The containers of these precious perfumes are beautiful and I loved the packaging and advertisements designed by artists and designers through the ages.
The 'nose' or perfumer of the perfume house used an instrument or fragrance organ with essential oils put out in specific order to help him develop a new fragrance. Up to 160 different fragrances can go into the development of a new fragrance.
I wanted to see the Balzac museum. We had such fun visiting all the little shops on our way there that we were almost to late for the museum. But the bakeries are so tempting it is almost impossible to avoid them. Who is not jealous of my coffee and special treat?
The Balzac museum was very interesting. Luckily Frederika got an audio guide as it gave lots of information. Like how Balzac re edited his own work up to eleven times, each time almost rewriting  the whole book,driving the editors crazy! Sounds totally excessive.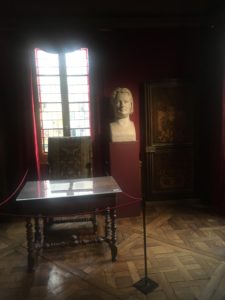 There are a collection of hundreds of images of characters from his books to print with his stories. These are lovely works of art in its own right.
We enjoyed a bagel before going home to settle in for the night. When we bought bread at our baker on our way home I noticed the wonderful ceilings