Is it Sunday again? We had breakfast at the local boulangerie, or baker. Orange juice and quiche. Beautiful cool day. The backed stuff is like an art exhibition on its own. Just beautiful to look at.
We are off to our Sunday morning market. It is still the sensory riot of the first visit. Today there were heaps of freshly picked mushrooms. Quite a number wild mushrooms! Would just love to taste them all.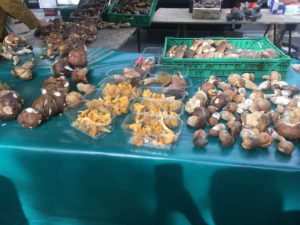 Fresh fish, huge crabs still alive and trying to escape from the weighing scale. I did not enjoy seeing a whole display of slaughtered doves, ready for the kitchen, but heads and feet attached to be recognizable.

The flower stalls were beautiful as usual.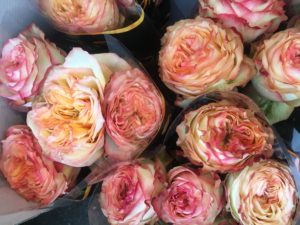 We left the market without the usual loot of food since neither of us felt too good.
I could still produce 2 small paintings. Lets hope we feel better tomorrow