On our way to an antique market on the outskirts of Paris we cross the busy square in front of the Notre Dame. It is swarming with tourists, taking selfies on selfie sticks, with the cathedral as backdrop.
An old song from childhood comes into my brain: " Daar is n apie op n stokkie voot my Ma se agterdeur…."
Our market is on the sidewalks of a whole neighborhood. It continues for kilometers! Anything you can think of old or antique you can be found  there.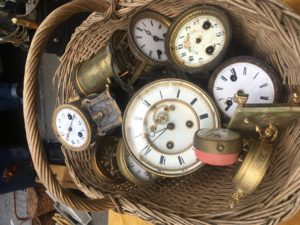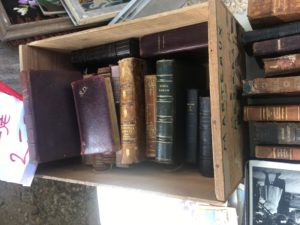 Crates full of books.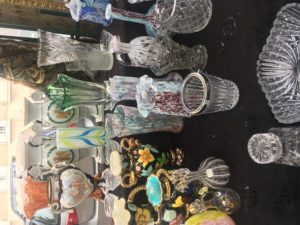 Glassware antique, old and new(ish)
Cutlery in sets or just single pieces. There are some exceptional craftsmanship  between worthless stuff. I saw some incredible Art Nouveau cutlery sets.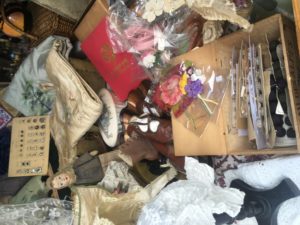 Clothes, lace wool, cotton thread and stacks of beautiful old linen.
We took the metro back to mid town. I love the metro. Actually all types of transport, if I am not in a hurry and can sit back to do people watching. I always wonder why people look so utterly unhappy. Do I look like that as well? Fortunately there is always the lovers, happy just to be together. The crazy ones are my favorites. Talking to themselves or glaring at people, grumbling under their breaths…and in Paris, the musicians with accordions, guitar or violin playing to their captive audience and then demanding some money. All of this makes every ride an adventure.
We pop out of the metro in mid town, in the middle of a market similar to the one we traveled to on the metro half an hour there and back again. But that is Paris! A surprise around every corner!
We had lunch in a bistro with lots of pedestrians passing by, the city buzz part of the experience! Starters mussels, main meals: beef bourgon stew for Frederika and turkey with sause and frittes for myself. We both had a lovely apple tart for dessert.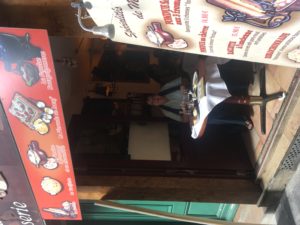 I could sit and sketch the architectural detail of the church across the ally.
We took the long way home.
Notre Dame from the back