Birthday in Paris. Thanks for everybody's good wishes. My day was really special. Paris has to be the best place for celebrating your birthday. Thank you to the beautiful special woman in my life that gave my day and my life sparcle.
After a late start and gifts we headed into town. We stopped at Shakespear and company for a browse through their selection of incredible books. The store was started by Sylvia Beach and was a haven for writers and artists in the early twentieth century. She helped writers like James Joyce to publish their books nobody wanted to print. Also Hemingway, Gertrude Stein and other new writers. On her own I think she did more for world litterature than any other person of the era. The shop still feels like a safe haven.
After crepe fromage we visited St Severin church. We spend some time to become quiet and absorb the atmosphere and the art.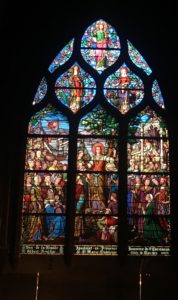 We concluded our day with a visit to the gothic Sante Chapelle. We heard a concert of mideavil music. What a thrilling experience.