I am up and about early. I walk to the Louvre along the right bank of the Seine. It is a beautiful sunny day. The courtyard of the Louvre is still empty except for the odd photographer taking advantage of the early sunlight and the absence of tourists.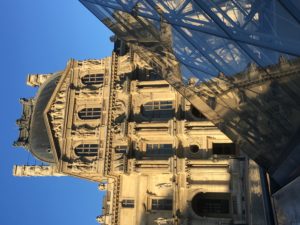 My aim is the Tuileries gardens. I walk under the Arc du Carrousel du Louvre majestic in the sun with its glittering statues on top.
The sprinklers in the garden just went off and the plump Mailol statues were still dripping wet. These figures beg to caressed.
I made my way to the first fountain where I sat myself down to draw a few statues.
Slowly walking back I drank in all the beauty around me. The Island of Notre Dame drifted like a big ship on the still waters of the Seine.
l bought croissants at the boulanger for a first class breakfast.
The next stop is the museum Delacrois. Another monument to a misunderstood artistic soul that meant a great deal to later generations of artists. He was an excellent draftsman with exquisite drawings and etches. His paintings tend to be dark and foreboding. Unfortunately his studio lost its charm in the restoration process. It is clean and neat with no sign of the creative process. The lovely garden is tranquil and peaceful.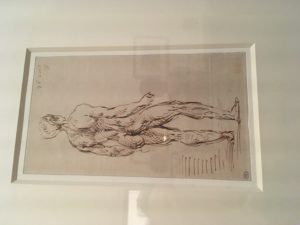 A visit to the archeological museum shows ruins from Roman times and interesting material on the development of the city.
At four we attended a Bach recital for organ, guitar and flute. Heavenly music made even better in the church of St Louis du l'Ile.
My wife conjures up a great meal while I start my first painting in Paris.