Architecture fascinate me. The city of Paris is heaven for anyone interested in architecture. From Roman ruins up to the most modern, up to date buildings can be seen.
On my last visit the architect Jean Nouvel's buildings cought my interest. Years ago I was fascinated by the windows of the Instetut du Monde Arabe in the french city. It is located on the banks of the Seine just upstream of the Notre Dame. It was designed by Jean Nouvel.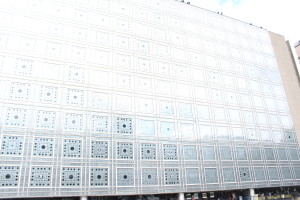 He used ancient Arabic tile designs to create patterns in stainless steel to form shutters for windows working on the same principal as the shutter of a camera lens to allow more or less light into the building. So clever for climate control.
Close to the little flat we stayed in is the new Cartier Foundation. Between street level and the gardens is a huge glass wall. Behind it is a flourishing garden with more glass walls. As one moves into the garden towards the building the difference between "inside" and "outside" becomes more and more blurred as the walls becomes more protective and roofs start keeping elements out. It is difficult to see where garden stops and building begins. Vertical gardens is part of it all.
The new Museum Quai Branly, Museum of Art from Africa and Oceanea is one of this Parisian based architects's masterpieces as well. We can see the glass wall effect used here again. The building was partially lifted from the ground to create an amazing garden all around (and under) the museum.
Before the trip I was very excited to read that the new Paris Philharmonie opened. At the first opportunity I was off to see the new building. Apparently the inside design is spectacular but I could not see it (and I really tried). But the building is beautiful.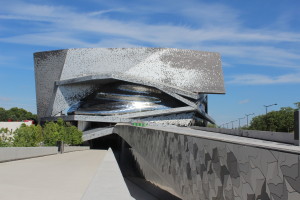 Nouvel's buildings can be seen in cities around the world. It is worth the effort to find them.