If one goes walking in the Paris' Tuileries Gardens Close to the Louvre Museum one can see a collection of statues by the sculptor Aristede Maillol. The gardens boast 20 Maillol sculptures. The sculptures are strong monumental female nude figures. They were donated by Maillol's last model and his muse,Dina Vierny.
I was very excited to learn that a Maillol museum existed. The museum was opened in 1995 by Dina Vierny in Paris. Apparently she spend 30 years planning and working on the museum. A lifetimes dedication was worth the effort. The museum is housed in a complex of eighteenth century buildings beautifully restored. The four story museum is a light filled building and exhibits a full range of the artist's work as well as works by his contemporaries and friends, including Matisse, Bonnard and Gauguin.
The elements of the building, like staircases exhibits its own sculptural qualities.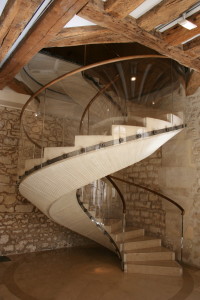 Apparently it started in 1934, when me Vierny, was only 15 years old. The sculptor was already 73 years of age. Vierny received a letter from the artist, stating: "Mademoiselle, I am told that you resemble a Maillol or a Renoir," he wrote. "I will be happy if it's a Renoir." (One look at Renoir nudes will tell you that this would be no complement to any modern young lady!) Thus began a ten-year collaboration. In this decade Vierny posed for and inspired such masterpieces as The Mountain, The River and Air.
Maillol's subject of choice was the female nude. The balanced architectural volumes of his monumental figures is forerunners to the work of such masters of modern sculpture as Brancusi and Henry Moore. The works in the Paris' Tuileries Gardens which, along with the Maillol Museum, stand as a living testament to the sculptor's genius.