If you stand in front of the Eiffel tower and look across the Seine you see a monumental building, the Trocadero. The wing on your right houses the museum of Architecture of Paris.
Replicas of parts of some of the finest cathedrals and monuments of France is housed inside. Yes, this is a museum of replicas. Detail of parts of buildings is painstakingly reproduced for research and restoration purposes. The end results ends up here. On first reading this I decided against visiting the museum. Who wants to see replicas if Europe is filled with the real thing?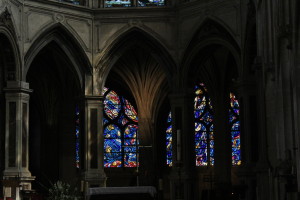 But since I am a cathedral fanatic I decided to take a look. I was bowled over. Beautiful detail of cathedrals that one can, as a rule never really see, cathedrals are huge and dimly lit (and that is just what I love about them, mysterious, holy and vast) but it means that all its magic is never fully revealed.
Here you can see and touch capitals witch are usually  elevated many meters above your head on a pillar. There are whole doorways with intricate carved doors well lit and right in front of you. Painted murals and apses of Romanesque churches in their splendour for close up inspection. Beautiful and sensitive sculptures without shadows and barricades that prevent you from seeing them up close.
I always think of cathedrals as the ultimate form of art. As artists today we crave for recognition. We rush things off and expect to be praised for our efforts ( or lack thereof). It took decades to build a cathedral. Most of the detail can not be seen from the cathedral floor. But the artists and artisans worked for the glory of God and because the were proud of their work. No amount of detail was spared. Here one becomes so aware of the work that goes into the decorating of these holy places.
I keep a travel and sketch journal. This museum gave me hours of happy and peaceful time to do my sketches.
On another level there is an exhibition with models of modern buildings witch no architect should miss.
The museum of architecture was a highlight of my tour. Don't miss it!